There is one rule of thumb any avid traveler should live by and that is 'the more you pack, the more you have to carry.'
 Traveling is an adventure. You should be ready to grab any opportunity as it presents itself so it's important to always pack as light as possible. Lugging a bulky bag around makes it harder to be spontaneous – you won't want to trudge through town in search of a last-minute hotel with a heavy backpack on your back and you'll be less likely to squeeze your way onto a packed train with an overloaded suitcase.
Having to grab a taxi whenever you need to get around is not only expensive, but it also sabotages your sense of adventure. We're going to show you how to pack for your next trip with just a carry-on bag, so you can maximize your time and your money to enjoy what's most important.
Choose a carry-on bag that's as light as possible (ideally under five pounds) as some can be heavy before you've even packed anything inside them. Ideally, you'll want to take a soft-shell bag that you can squash down to a smaller size if necessary.
1
Pick your bag wisely
The number one rule for packing light is to pick a bag that makes it difficult to overpack.
That means leaving behind your large suitcase and opting for a small and lightweight bag you can carry onto the plane with you. The benefits of traveling with a carry-on bag? You won't have to wait for your checked-in luggage to arrive on the carousel – you'll be able to grab your bag and go! Plus, you won't be taking the risk of the airline losing your luggage.
2
Use packing cubes
Packing cubes like this eight-piece set are an absolute lifesaver for those who spend a lot of time living out of a suitcase. They allow you to pack all of your clothes into individually sized bags so you can find anything you need in a hurry without upturning your entire suitcase.
Another alternative is to use compression cubes. Perfect for more experienced travelers, these bags have a compression zipper that allows you to expand the cubes for packing and then zip down tightly to save as much space as possible.
3
Go back to basics
One of the easiest ways to pack light is to lay out all of the essentials, leaving out any indulgent items like that pair of trousers you've only worn once or a flashy necklace you'll likely never have an opportunity to wear.
If you're a big jewelry person and you simply cannot go without it then pack simple, travel-friendly jewelry you'll be able to swim and shower in, or a scarf or headband that you can use to smarten up an outfit. Leave everything at home that you'd be heartbroken to lose. A packing list is a great way to make sure you don't forget anything important.
Avoid the risk of having to pay for excess baggage at the airport by getting your own scale to weigh your bags on the go.
4
Pack neutral clothing

Opt for clothing in neutral colors that you can mix and match. By taking just a few items in blacks, whites, khakis, and greys, you can maximize the number of outfits you have.
You can usually get by with three pairs of bottoms and four to six tops and just do laundry as and when you need to. Alternatively, you can pack laundry detergent in a travel bottle and wash your clothes in the bathroom sink as you go along. Travel coat hangers are a lifesaver for doing laundry on the go.
5
Treat yourself to one non-essential item
We all have at least one thing we simply cannot live without, whether it's a powerful hair dryer, a hair straightener or a fancy beard trimmer.
Packing something that makes your life easier while traveling is completely fine but try your best to limit yourself to just one item you don't absolutely need.
6
Be clever with electronics
Along with your mobile phone, your power bank and head torch, you're likely going to need all the charging cables that come with them. An international travel adapter like this one is a great way to minimize over-packing as it does the job of several adapters.
With an eight-hole socket, it fits into any country's outlet and you can charge up to three electronics via USB at the same time, such as your iPhone or Android phone, MacBook and anything else that charges via USB.
7
Be careful with shoes
Shoes are the heaviest items you're going to pack so make sure that you choose them wisely. A good rule of thumb is to pack one pair of flip flops and one pair of sneakers or hiking boots. Where possible, try and pick soft shoes that can fold away easily.
Ladies, if you absolutely must have high heels, take only one pair. But consider a pair of pretty sandals or pumps instead as they will likely get a lot more use.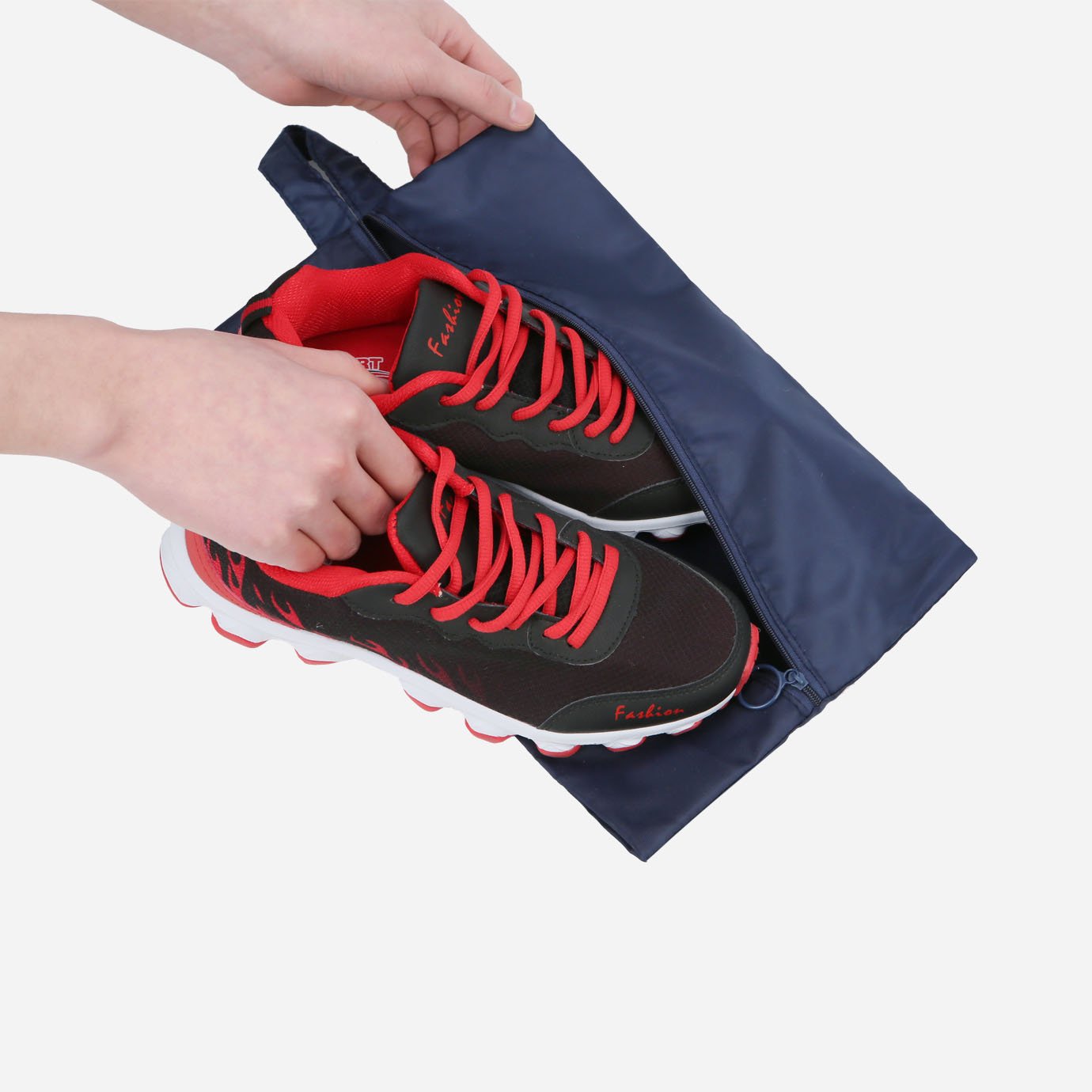 8
Downsize your luxuries
 It's advisable to scale down the pampering when you're traveling. Firstly because you won't have the time or the space to carry out your daily self-care routine, but mostly because… well, you're traveling. It's simply not necessary to hike Kilimanjaro with a full face of makeup.
Instead, pack only the basics you'll need and try and get travel sized toiletries wherever you can. Pack smaller sized foundation and shampoo bottles or decant them into travel sized bottles if you need to.  An easy way to do this is to pick a small-sized toiletry bag and only pack what fits inside it.
9
Weigh your bags before the airport
Avoid the risk of having to pay for excess baggage at the airport by getting your own scale to weigh your bags on the go.
Portable luggage scales are great for carrying with you to make sure that any travel purchases you make don't tip your bag over the weight limit.
10
Wear your heaviest items
If you need to pack heavy gear like hiking shoes and a big puffy jacket, make sure you wear these on the plane to avoid adding extra weight to your carry-on bag. If they aren't the most comfortable to fly in, you can change into something else when you're on the plane.
What other packing tips do you have to ensure you always pack light for travel?