NORDACE
Edin Rolltop Backpack
Empower your adventures.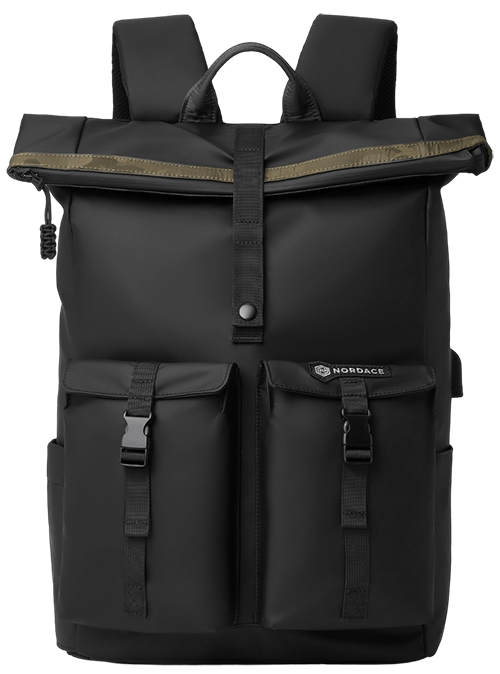 Now, you can tackle any outdoor challenge with ease. Nordace Edin Rolltop Backpack is perfect for adventurers who crave comfort without sacrificing the thrill of exploration.
This backpack is like a chameleon, blending style and function into one. Let it inspire you to venture further, climb higher, and explore deeper than you think. And, as you push yourself to new limits, let it be that true friend who you can always count on.
Whether you're a seasoned outdoors adventurer or a city slicker looking for a weekend escape, this backpack will be your faithful companion. It's sturdy to handle rugged terrain, yet chic enough to fit in at a fancy glamping site.
So come one, come all – this backpack is for everyone, no matter what your adventure style may be.
Packsmart System
Smart packing for hassle-free exploration.

Roll, Snap & Go
The simple and intuitive rolling system sets this backpack apart. The rolltop design provides flexibility and convenience. Whether you're packing light for a day trip or loading up for a longer excursion, our backpack can accommodate your needs with ease.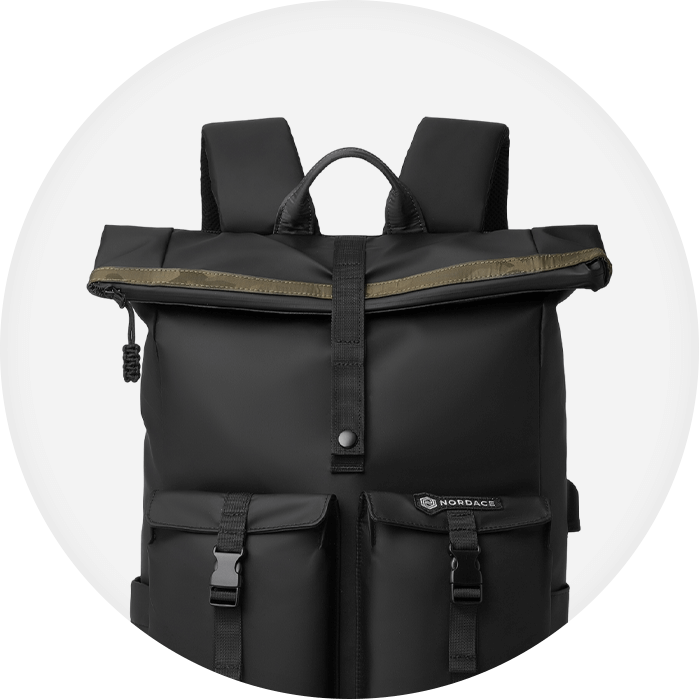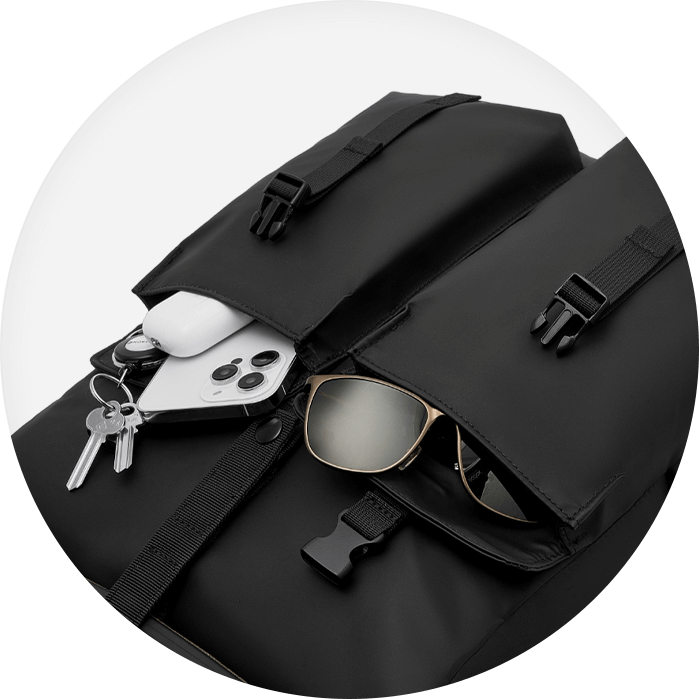 Stay Organized, Stay on Track
Do you tend to lose your phone charger or keys at the bottom of your bag? You may need this backpack with a pocket for every little thing. With multiple organizational pockets, you'll never have to dig through a jumbled mess to find what you need.

Secure Your 15.6″ Tech Life
No more juggling between your laptop bag and your adventure gear. This backpack does it all with its laptop slot. Bring your 15.6" device along for the ride – it's secure and ready to go whenever you are.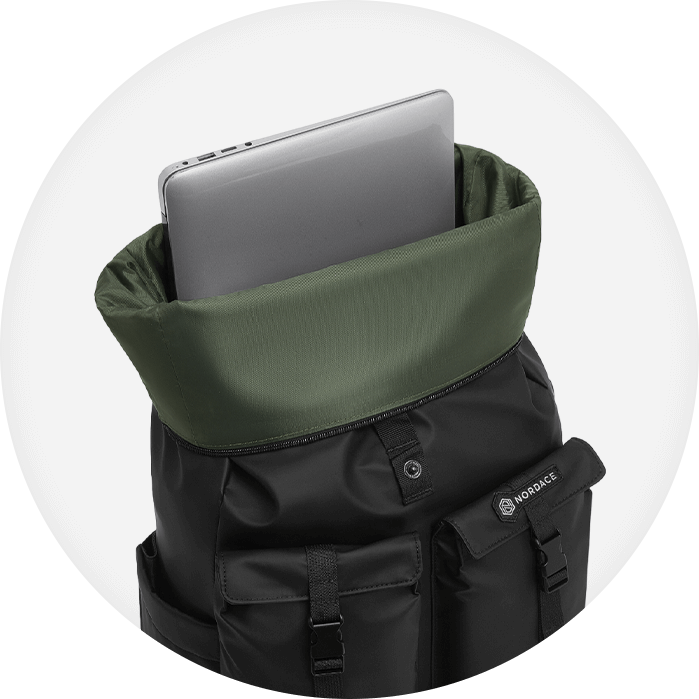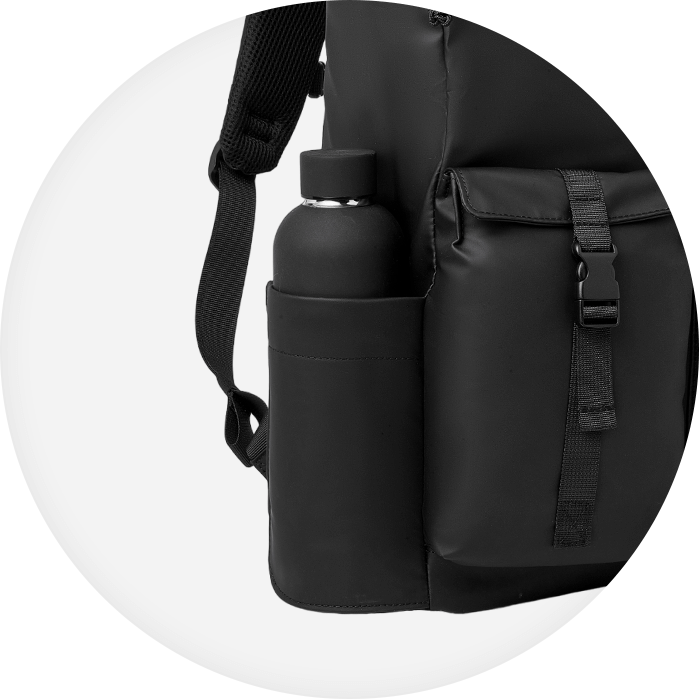 Quench Your Thirst (For Adventure)
When you're hiking through mountains and camping under the stars, our backpack ensures you have access to refreshing water. It has not one, but two water bottle pockets. Grab your backpack, fill up your water bottle, and venture out.

Clip, Hook & Hang Your Gear
Oh, the daisy chains on a backpack are like nature's bling, ready to be adorned with all sorts of glamping things! Hang a lantern here, a water bottle there, even your boots can have a place to spare. With these chains so handy, your glamping game will be dandy.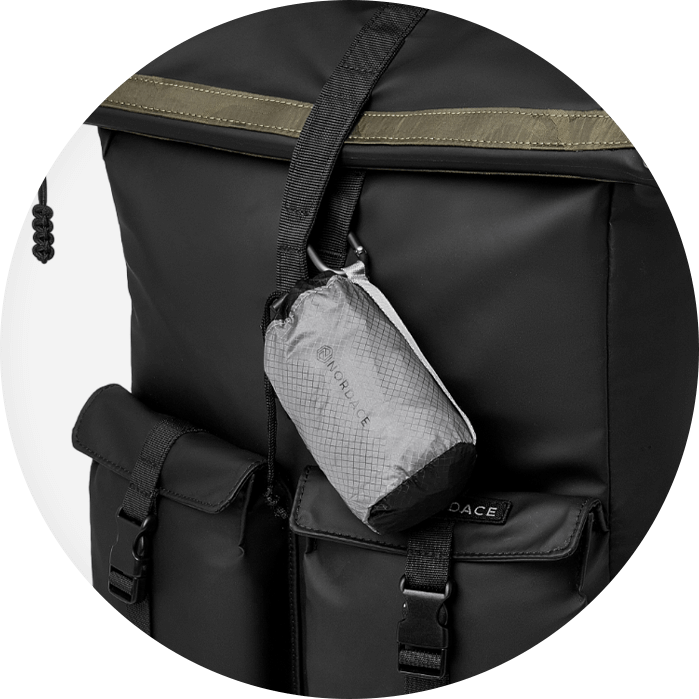 Safeguard Your Belongings
Protect what matters most.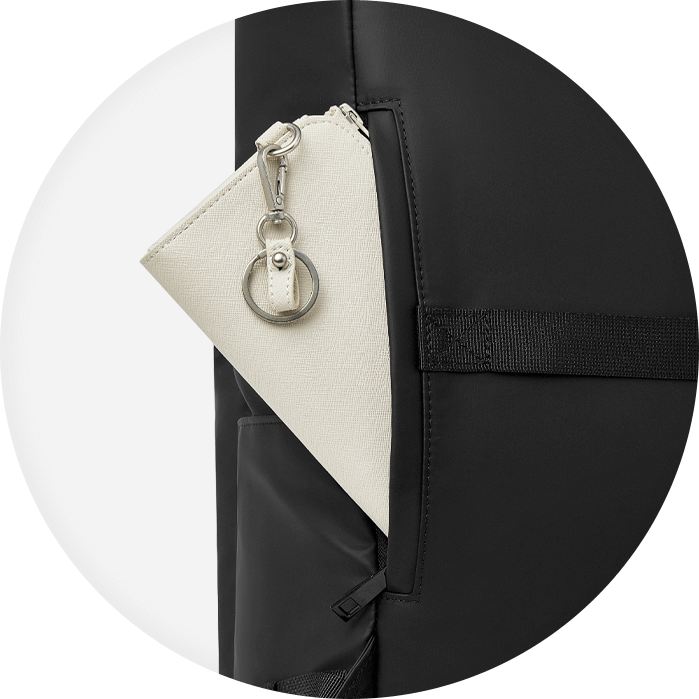 More Time Exploring, Less Time Worrying
Say goodbye to the anxiety of traveling with expensive or sentimental items. Embrace the freedom to explore with confidence by keeping your valuables in the dedicated secret pocket on the back of the backpack.

No Skimmers Allowed
Worried about sneaky hackers stealing your credit card info, too? Not anymore! Our backpack's got your back with RFID-blocking card slots.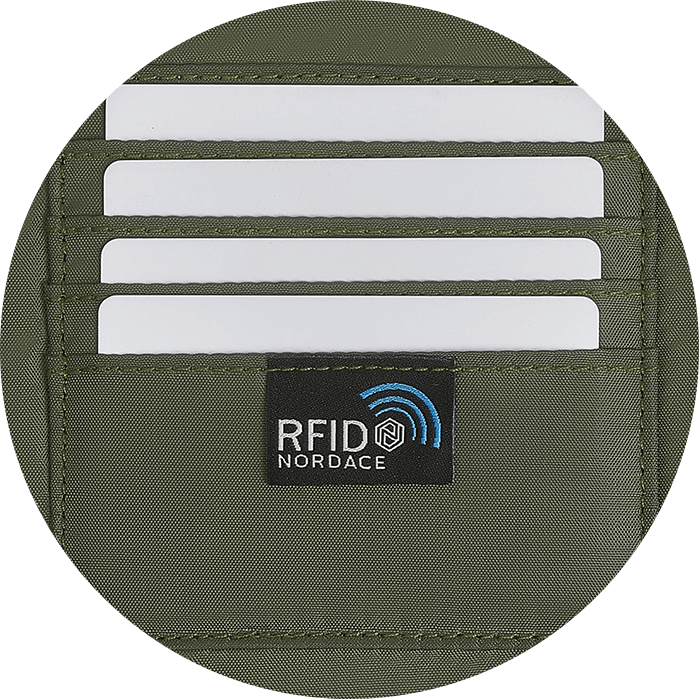 Designed to Make Your Life Easier
Explore the outdoors with a bit of pampering.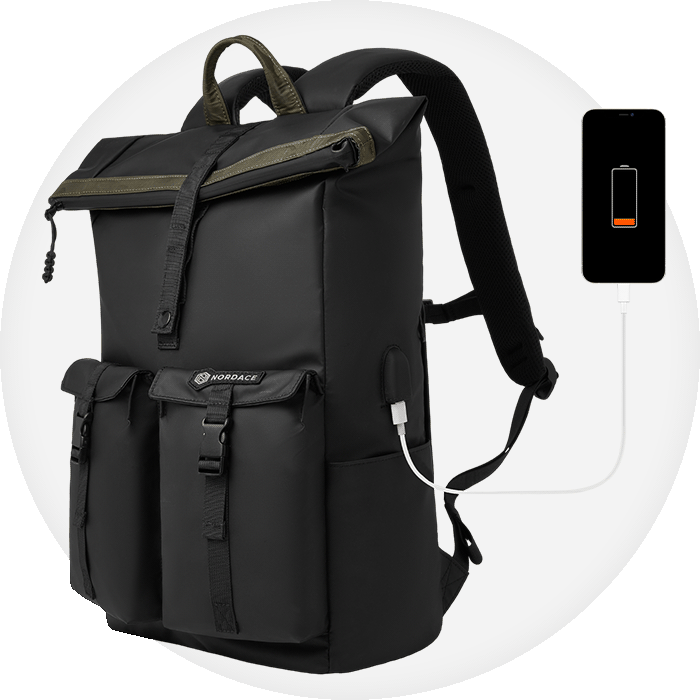 Connected Wherever You Roam
The USB charging port on our backpack makes it perfect for those who love to document their travels with photos and videos. Go ahead and capture every moment with the peace of mind that your devices are always charged and ready.

Rain Won't Stop You
Nordace Edin Rolltop Backpack is built to withstand the elements. It is crafted from water-resistant materials to keep your gear dry no matter where your travels take you. Time to answer the call of the wild in style.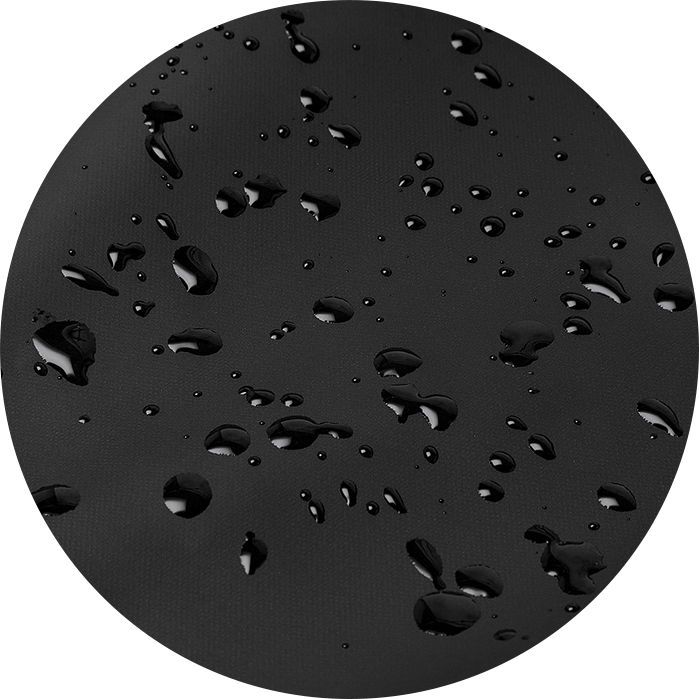 Made for Ultimate Comfort
You don't have to adapt to your backpack. It adapts to you.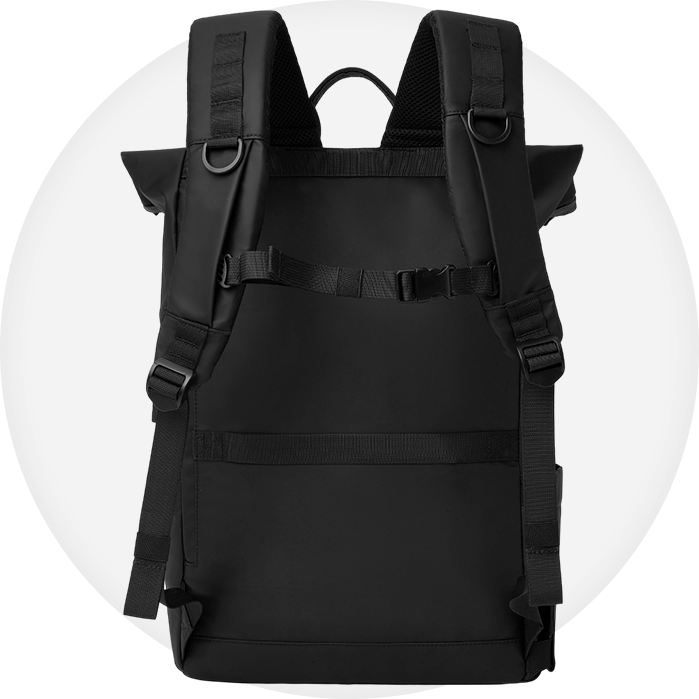 Make Every Step Feel Effortless
Say goodbye to sore shoulders and hello to comfortable travels. From city streets to mountain peaks, our backpack's comfortable shoulder straps and sternum strap provide unbeatable support and stability.

Ready for Any Trail, Any Journey
The built-in luggage strap prevents the strain of carrying multiple bags at once. No more fumbling around with separate bags. No more stress on your shoulders when navigating a busy airport.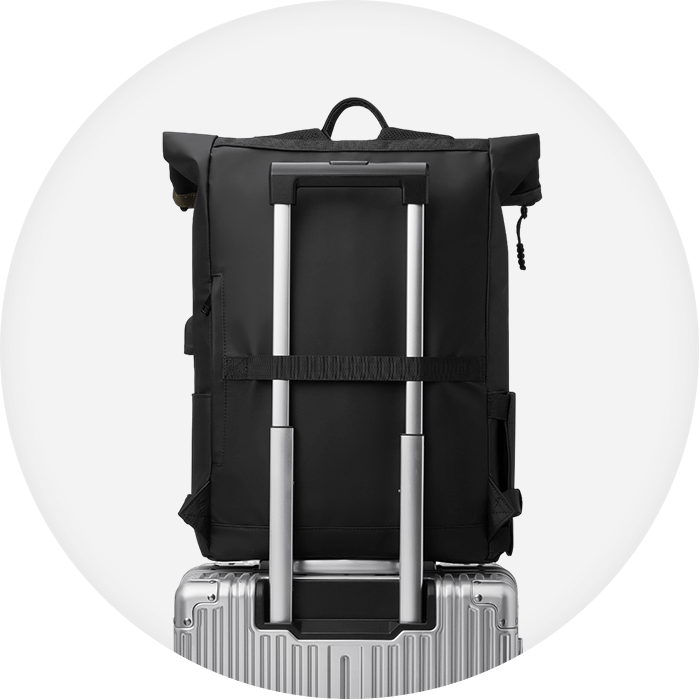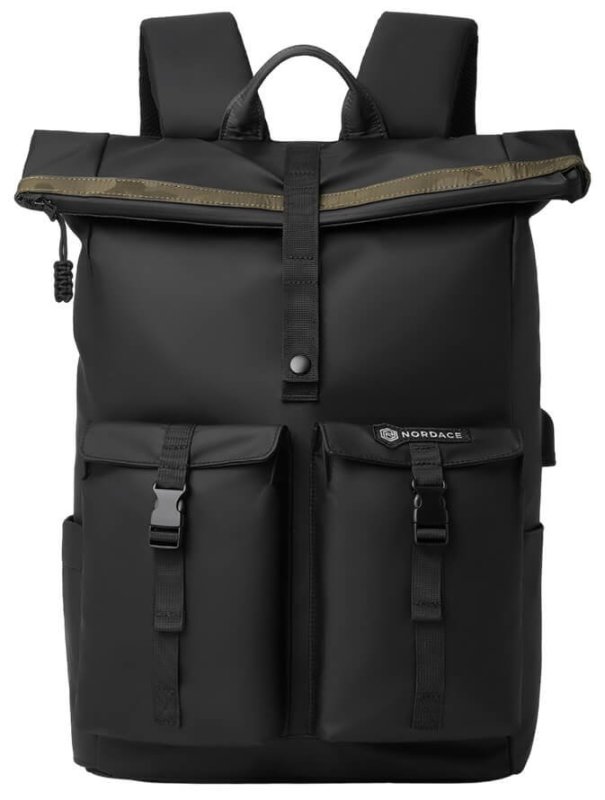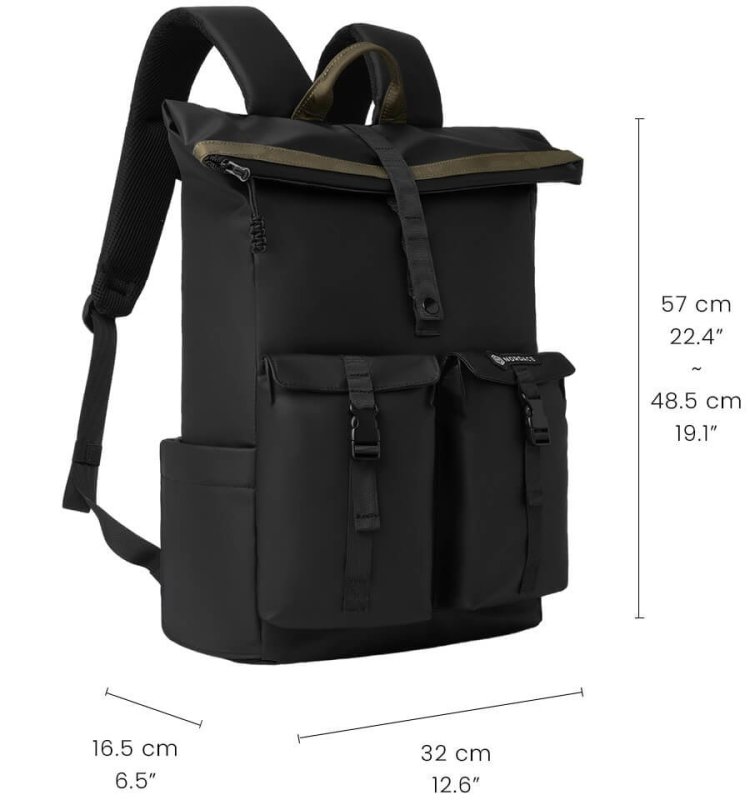 Weighs Only 0.97 kg (2.14 lb)

Laptop Compartment Fits
29.5 x 33.5 cm
(11.6" x 13.2")

Keep Water Out with Water Resistant Fabric

Water Bottle Pocket (1500 ml)

Fits In Overhead Bin & Under the Seat

External USB Port
(No Power Bank)

Explore The Edin Collection