NORDACE
Colmarre Laptop Briefcase
An everyday briefcase you can rely on for office, college, and travel.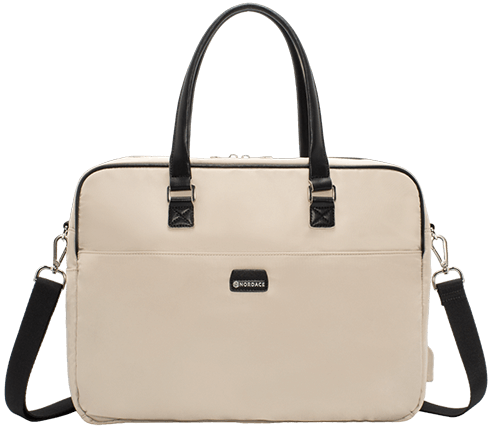 When it comes to carrying your laptop, you want a bag that's not only functional but also stylish. Nordace Colmarre Laptop Briefcase offers the best of both worlds.
This cleverly designed briefcase is more than a laptop bag. It is your portable office. It does not only cradle your device with the utmost care, but it also embraces your modern lifestyle. From power cords to pens, from notebooks to business cards, everything has its designated place. Its sleek exterior and impeccable craftsmanship make it easy to match to any outfit, earning you compliments wherever you go.
Packsmart System
Experience organization at its finest.

Pack It All with Confidence
Picture this: a beautifully sleek profile that exudes professionalism, while inside, a roomy interior awaits. It's incredibly spacious for a briefcase, making it perfect for your laptop, documents, notebooks, and anything else you need to conquer the day.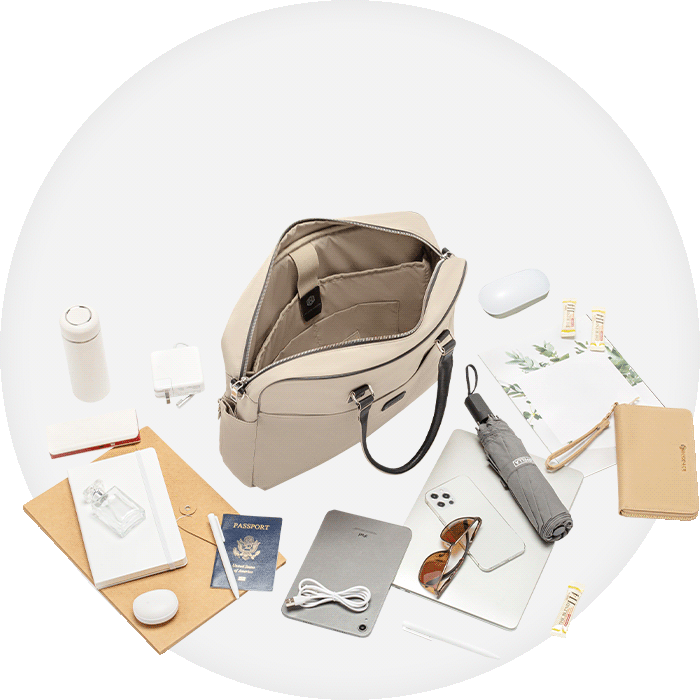 Smart System of Pockets
Clutter is a thing of the past with this briefcase. The smart system of compartments is designed to maximize space and efficiency. From dedicated pockets for your laptop, tablet, and smartphone to specialized slots for pens, business cards, and sunglasses, every item finds its rightful place.

Seamlessly Integrate Your Devices
The briefcase's tablet slot and dedicated 15.6" laptop compartment provide a protective haven for your tech gear. They ensure your devices are always at hand, ready to assist you in presenting ideas, capturing inspiration, or indulging in multimedia delights.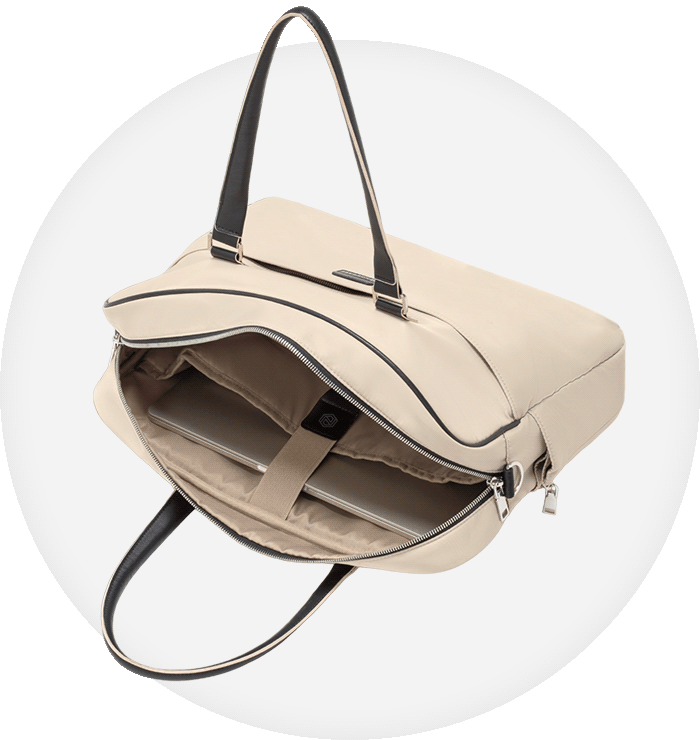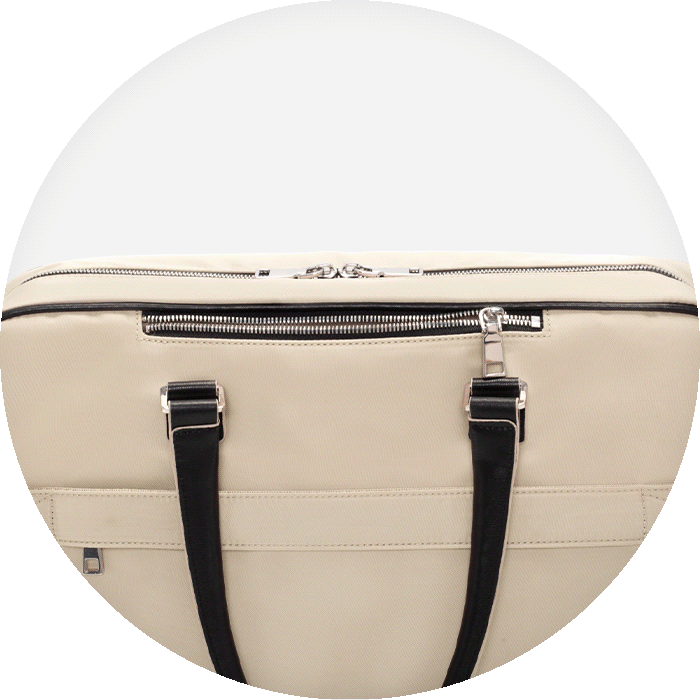 Your Sunglasses' New Favorite Spot
This quick-access pocket is perfect for your shades, earbuds, or that surprise item you always seem to need in a hurry. Dive in, grab what you need, and carry on with your day.

Goodbye, Tangled Cable
Never again endure the frustration of searching for the right cable in a messy bag. These cable loops provide effortless organization, granting you instant access to the exact cable you need at a moment's notice.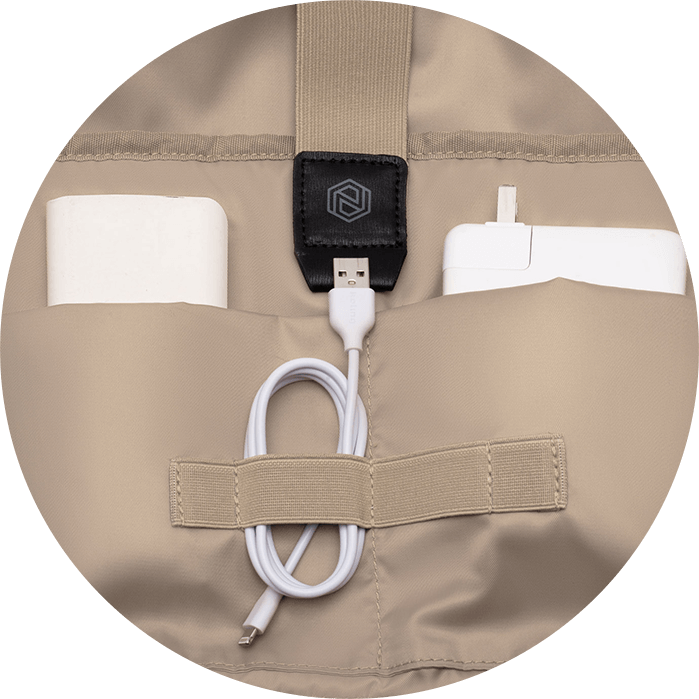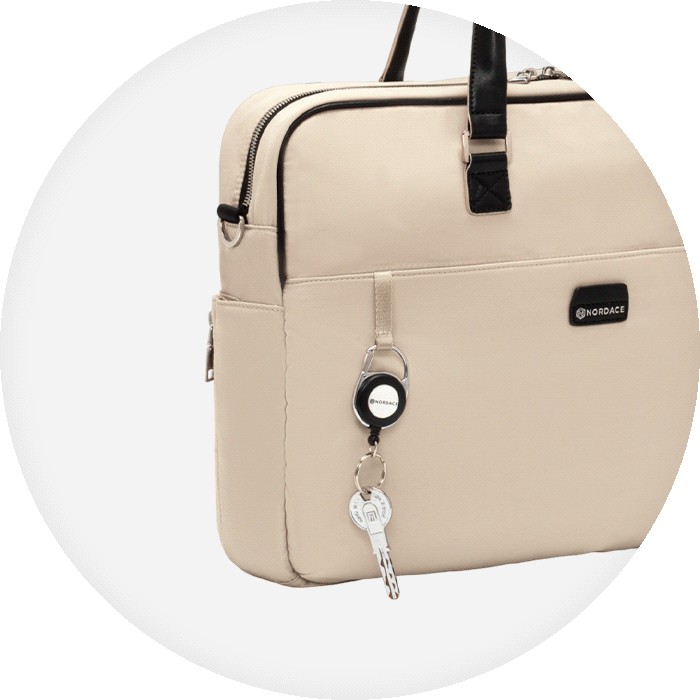 Stop Losing Your Keys
No more rummaging in the abyss of your bag. Simply attach your keys to the leash, and they'll remain secure and easily accessible.

Instant Access to Essentials
From your headphones to travel tickets, or favorite pen, the quick-access pocket keeps your essentials at hand. Stay prepared and ready for anything that comes your way.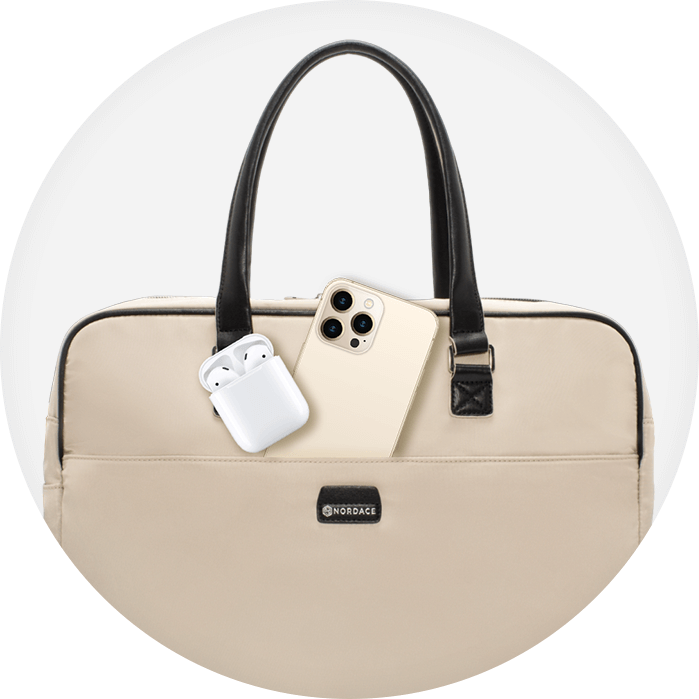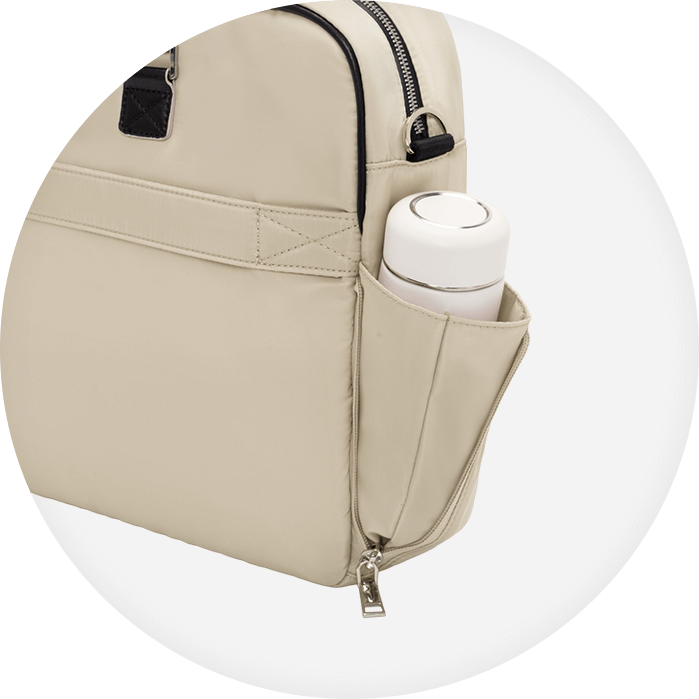 Hydration on the Move
The water bottle pocket cradles your water bottle securely, preventing spills and leaks while keeping it easily accessible for that much-needed drink. Embrace the freedom of hydration at your fingertips.
Safeguard Your Belongings
Stylish protection for your valuables.

Protect Your Valuables
Keep your valuables safe, even in the chaos of bustling airports or crowded places. With the hidden pocket, you'll experience a newfound sense of calm and confidence, free from the anxiety of potential theft.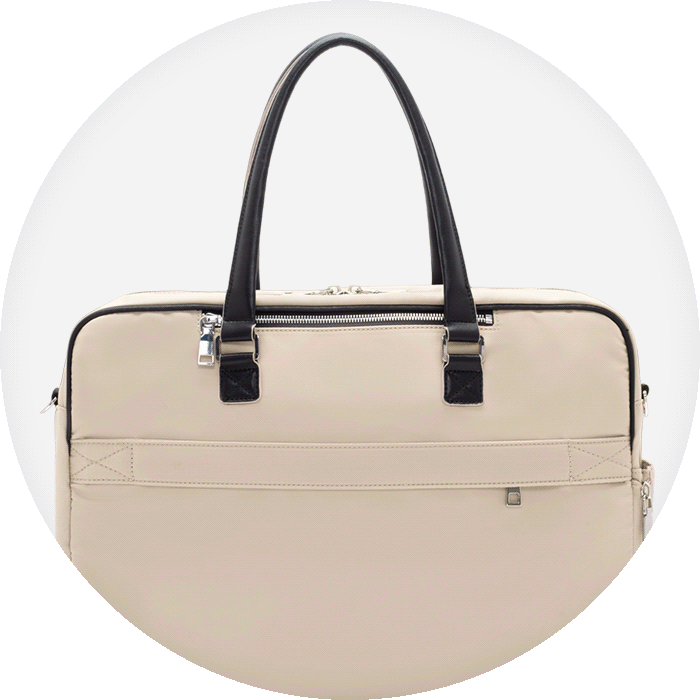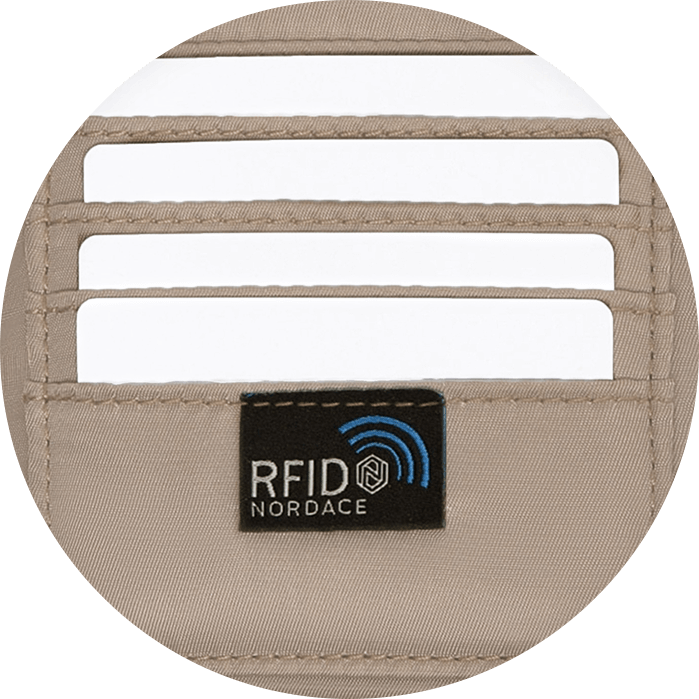 Defend Your Data
Don't let invisible thieves compromise your sensitive information. The RFID-blocking card slots act as a shield, safeguarding your credit cards and passports from unwanted scanning.
Designed to Make Your Life Easier
Your reliable companion on the road.

Power Up Anywhere, Anytime
Tired of hunting for a power outlet when your phone is running low on juice? With the built-in USB port, you can charge your devices on the go. Whether you're at the airport, in a coffee shop, or dashing between meetings, you'll always have a power source at hand.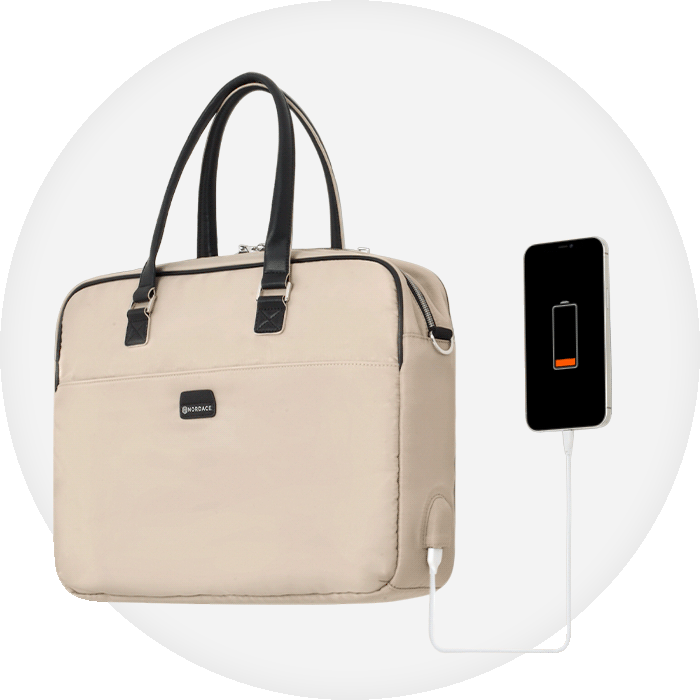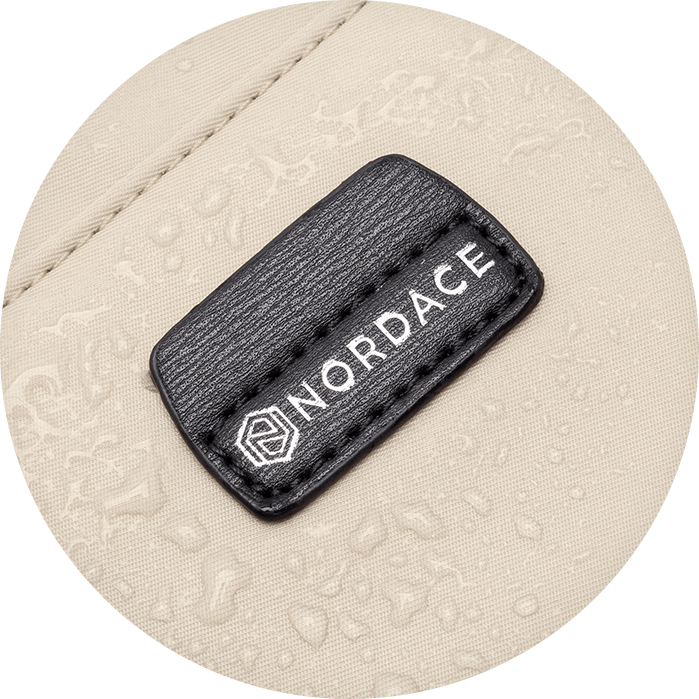 Built to Withstand
No need to worry about unexpected rain showers or accidental spills. Our water-resistant briefcase keeps your belongings dry. Count on its sturdy construction to keep your gear safe and secure throughout your journeys. With this briefcase by your side, durability and reliability are guaranteed.
Made for Ultimate Comfort
Redefine what it means to carry your essentials in comfort and style.

Simplify Business Travel
The top handles provide a comfortable grip, allowing you to breeze through your day with ease. And if you prefer to go hands-free when traveling for business, attach it to the handle of your suitcase and breeze through airports, subway stations, or busy streets.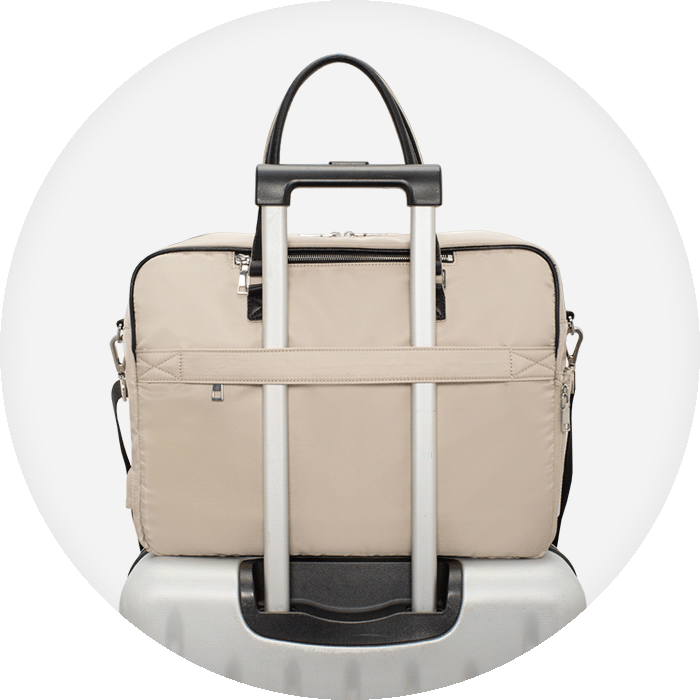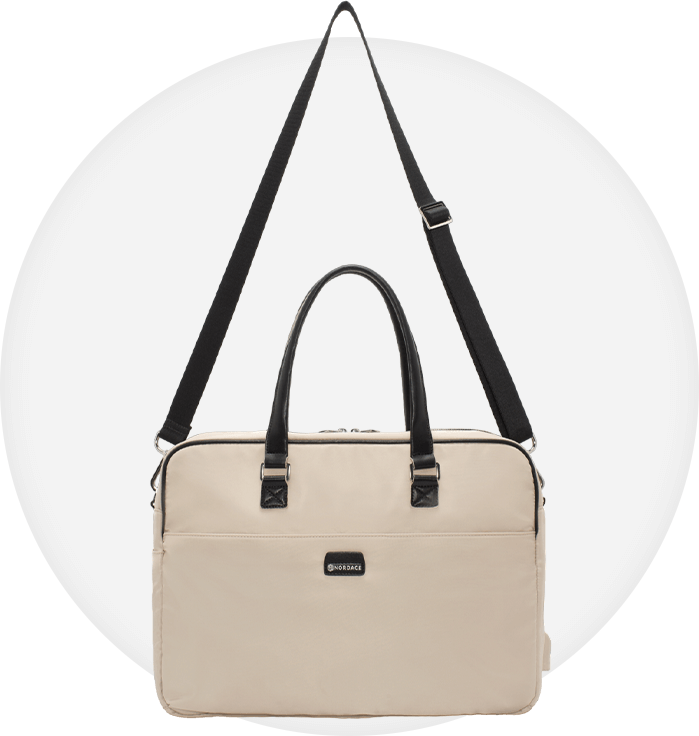 Grab-and-Go Versatility
Carry it in two ways and adapt it to your needs. When you're in a rush, the sturdy handles offer a firm grip that exudes confidence and professionalism. But when you need that extra freedom, attach the shoulder strap and navigate the urban jungle with ease, hands-free.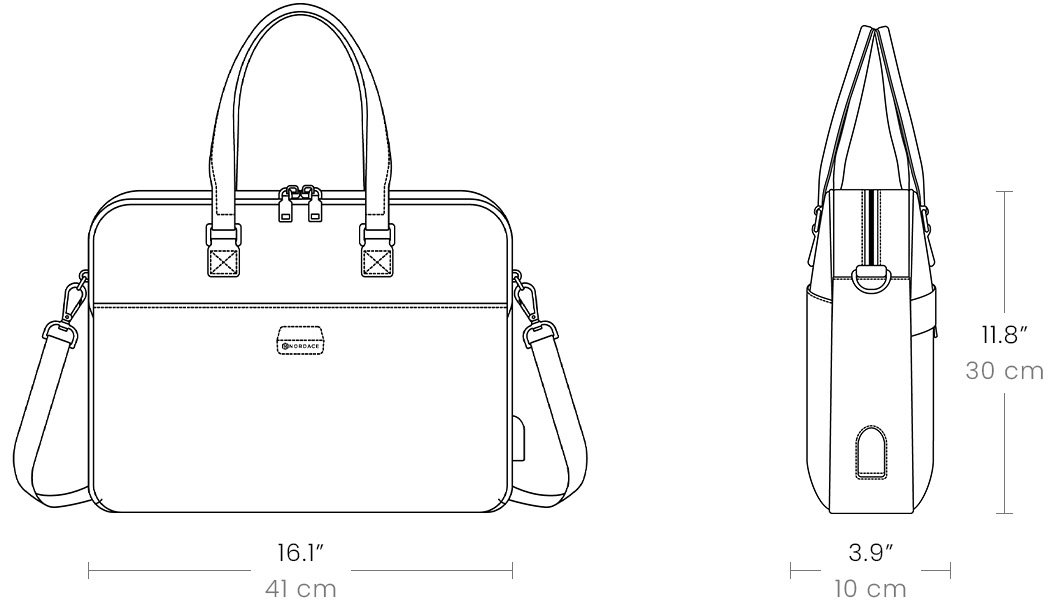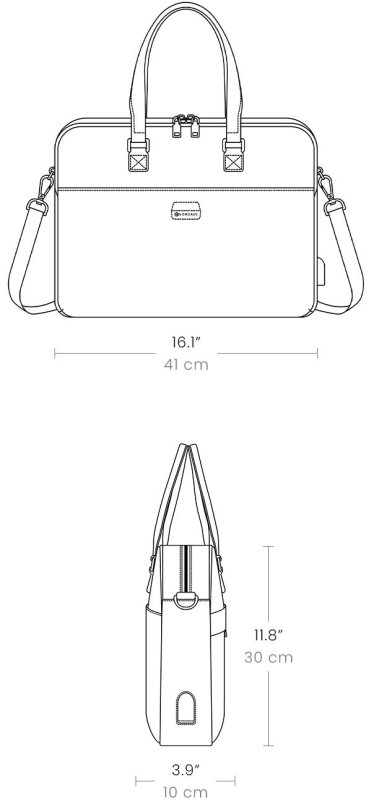 Made With Polyester & Micro-Fiber Vegan Leather

Weighs Only 1.03 kg (2.27 lb)

Laptop Compartment Fits
39.5 x 27.5 cm
(15.4" x 10.8")

Keep Water Out with Water Resistant Fabric

Water Bottle Pocket (750 ml)

Fits In Overhead Bin & Under the Seat

External USB Port
(No Power Bank)